【KMS校外註冊使用說明】 【KMS Activation Instructions】
1.註冊之前請於瀏覽器網址列中輸入http://kms.fgu.edu.tw,會出現下圖。
2..請輸入學校電子郵件帳號密碼登入,暫時取得網路通道授權(約莫數分鐘)。
3.請再登入一次,下載註冊用檔案。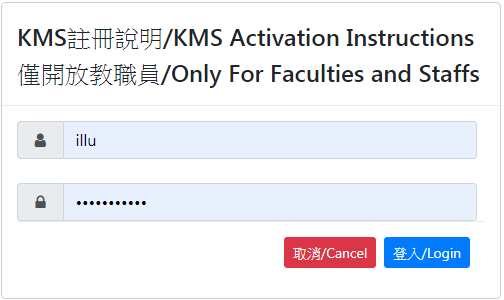 4.請依您的需求選擇下載檔案:
請針對*.bat註冊檔案按右鍵,選擇
「 以系統管理員身分執行」。
系統將出現使用者帳戶控制的提示,請按「是」繼續,即可啟用成功。
5.授權成功畫面如下:Windows
5.1.授權成功畫面如下:Office
---
KMS Activation Instructions
step 1.Input .http://kms.fgu.edu.tw address in the browser before KMS activation.
step 2.Use your FGU E-mail account and password login.
Please complete the activation within five minutes.。
step 3.Login agin for download KMS activation file.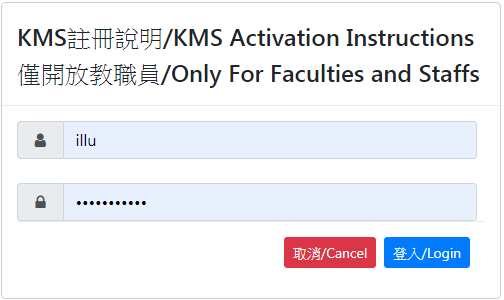 step 4.According your needs to download activation file :
Right-click on 「*.bat」, then select
「Run as Administrator」.
Select "Yes" when the notice of User Account Control appers
step 5.The success screen is as follows:Windows
step 5.1.The success screen is as follows:Office